Eurail pass: unlimited train travel across Europe
The Eurail pass is dedicated to non-European citizens looking for a cheap way to discover Europe by train. In total, 31 countries are part of the program, representing the perfect opportunity to discover famous capital cities and charming villages with unlimited train travel.
What different types of passes are available?
If you want unlimited travel across Europe by train, there are two different passes:
Global Pass Eurail
Eurail Global pass is the unlimited pass to take the train across 31 European countries, for up to 3 months.

One country pass Eurail
The Eurail One Country pass will let you discover one specific country or the Benelux (Belgium, Netherlands, and Luxembourg).
Where can I buy my Eurail pass?
You can buy the Europe train pass on the Eurail website. The delivery can be at your work or home address but also at your hotel or hostel if you're already on the road.
The price of the pass will depend obviously of the one you're choosing (pass coverage) but also on your age, if you want to travel 1st or 2nd class, the number of travelling days as well as the duration of their validity. For the One Country pass, prices will vary depending on the country you're visiting. The price for a Global one will start from 168 euros* and from 51 euros* for the One Country.
*Prices found on the 24/10/2019 for a youth fare (12 to 27 years old).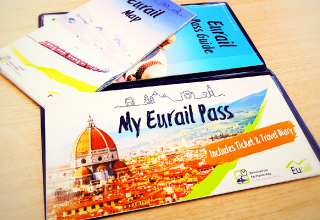 Eurail pass: here are a few things you should know on how to use the European rail card
How does the Eurail pass works? Where can we travel? How much does it cost? You'll find below all of the key information that will help you find the right pass for a train trip in Europe.
How does the Eurail pass works?
Eurail offers two different options to choose how you would like to travel: the Flexi pass, and the Continuous pass.
| | | |
| --- | --- | --- |
| | Global pass | One Country Pass |
| Valid in | 31 countries | 1 specific country |
| Available with Flexi Pass | Yes | Yes |
| Available with Continuous Pass | Yes | Yes |
Flexi pass
The Flexi pass is valid for a set number of days, called Travel Days, where you can take the train during its validity such as 7 days split up throughout one month.
Continuous pass
The Continuous pass is a good option if you're looking for more freedom regarding your travel days. It can be used as often as you want during the length of its validity.
How can I book my train tickets with Eurail?
There are several ways of booking your train tickets with your European rail card: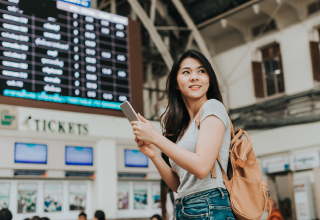 Via the Eurail.com platform
Online via the carriers websites for most trains in Austria, Czech-Republic, Germany, Italia, Sweden, Switzerland
By phone via call centers for some rail companies including ÖBB in Austria, Deutsche Bahn in Germany, CFL in Luxembourg and SBB in Switzerland)
Via the Rail Planner App for reservations for France, Italy, Germany, Sweden as well as some international trains such as Eurostar and Thalys.
Directly at the station
Advance reservations is required for most high-speed, international and night trains. It will incur some reservation fees not covered by your pass but it guarantees a seat and may include additional services. If you plan to take a local or regional train, it is not always mandatory to book in advance which means access on board is possible if seats are available. You can easily check if a seat reservation is needed for your journey by using the travel planner on the Rail planner app.
What is the list of countries participating in the program?
The Eurail pass is available within 31 European countries including:
Germany
Austria
Belgium
Bosnia and Herzegovina
Bulgaria
Croatia
Denmark
Spain
Finland
France
United Kingdom
Greece
Hungary
Ireland
Italy
Lithuania
Luxembourg
Macedonia
Montenegro
Norway
Netherlands
Poland
Czech republic
Romania
Serbia
Slovakia
Sweden
Switzerland
Turkey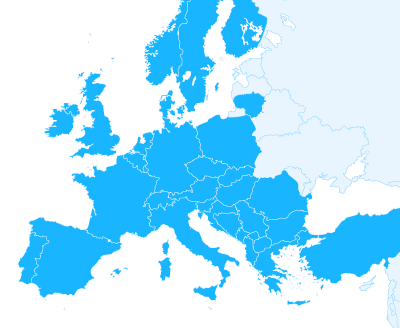 Travel Europe by train: more reasons for choosing the Eurail pass
With the Europe train pass, you will save plenty of money on many sides in complement of unlimited train travel in Europe:
-10%
On the accommodation in some hostels
-20%
On bike rentals with Donkey Republic (available across 12 countries)
0€
Free travel on IC buses passing through Germany (4,5€ reservation fee)
-10%
In some restaurants such as Hard Rock Café
15€
Discount to create your photo book with Polarsteps, make sure you track the best moments of your trip
 %
Discount on tourist guides and some guided tours or attractions
 %
Discount on other services (luggage storage, shipping services, etc)
Frequently asked questions for the Europe train pass
What's the difference between Eurail & Interrail?
The Interrail pass can only be used by Europeans citizens/residents. Non-European citizens/residents can them use the Eurail pass.
The advantages are similar for both passes. Specific conditions can apply depending on the country of residency. European citizens living in a city outside Europe or non-European citizens living in Europe have the choice between the Interrail or Eurail Pass. By choosing the Global Pass, they will only be able to use it in their native country on the first and last day of their trip. You should always be able to provide a proof of residence and an ID.
How much time in advance should I book my Eurail pass?
Maximum 11 months in advance. When booking your unlimited train pass for Europe, you will need to indicate the first day from when you want to use it. You can buy it up to 11 months before this date. Note that the standard delivery time is approximately 2 weeks but you can pay an extra fee to get a premium delivery within 1 week.
How can I get discounts?
Special discounts are available for Youth (-28 y.o.) and seniors (over 60 y.o.). Children under 4 years old can travel for free with you. Children under 12 can also travel for free with the family pass. For both, you'll need a free Eurail Child pass. Sometimes Eurail offers additional special discount on its passes for a short period of time, stay tuned!
What is a Travel Day?
The duration of a « Travel Days » is 24 hours, from midnight to midnight. If you have a Flexi pass, make sure you indicate the date of each day you're travelling in the Travel Calendar before getting on board. It is required and could be asked by the agents during their control.
Good to know: if your first trip of the day is made after 7pm aboard an overnight train arriving after midnight, you will only have to use one travel day: the day of departure. The same rule applies to overnight ferry trips.
Can I use my pass with Eurostar?
Yes! You can make an Eurostar journey if you have an Eurail Global pass. You will have to book in advance and pay the extra reservation fees.
Can I travel first or second class?
When booking your pass, you will be asked whether you would like to travel in 1st or 2nd class. The price will be higher if you choose the comfort of 1st class. You will also be able to travel in 2nd class with your 1st class pass while you will need to pay an additional fee if you want to travel 1st class with a 2nd class pass.
How much can I save?
The overall savings that you will make by using the Eurail pass instead of standard european train tickets will depend of the journeys you're planning, the time in advance you can book your tickets, if you're travelling 1st or 2nd class, the number of countries you wish to visit, etc. To give you a quick snapshot of the savings you can make per journey, we compared the prices on popular trips with & without the Europe train pass:
| | | |
| --- | --- | --- |
| Popular trips | Booking fees with the Eurail Pass | Price of standard tickets* |
| Berlin – Munich | 4,5€ | 20€ |
| Rome – Naples | 10€ | 13€ |
| Paris – Nice | 10€ | 29€ |
| Brussels – Amsterdam | 15€ | 34€ |
| Geneva – Marseille | 16€ | 41€ |
*Minimum cost found on 15/10/2019 for a trip on 15/11/2019
I have got an issue with my Eurail pass, what should I do?
For any issues when receiving the pass or during your trip, go to eurail.com to contact their support team.
Credit : Idris700 – CC BY-SA 4.0 via Wikimedia