This is it, the leading multimodal travel search engine in France, KelBillet, has launched its European brand in UK: Gopili! The aim? Offer to British travellers a simple and intuitive way to find, in one click, the best travel option for domestic and short-haul journeys, including all transportation modes.
You'll no longer need to spend time checking all transport operators websites to find the best offer for your journey! Gopili is doing it for you.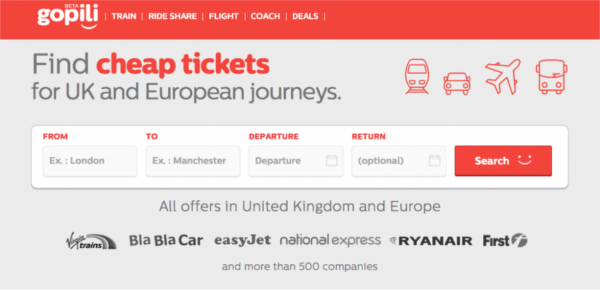 An innovation for domestic and European travel in UK
The UK travel market contains a large number of transport operators and Gopili aims to give UK travellers the ability to see all travel options in one search, from well-known train, flight and bus companies to a driver offering a ride. It provides journey options for more than 80,000 destinations to make sure you will find the best fare for your domestic and European journey.
A simple and easy to use website
The website has been specifically streamlined & designed to be intuitive and easy to use. Gopili features a simple horizontal menu, enabling you to choose directly your favorite transportation mode (train, plane, coach or ride share) but also to look at the latest deals available.

The travel search engine is easy to use: you just need to input the departure and arrival towns/cities as well as your desired dates to travel. Gopili will then provide you with all the transportation options available for your journey. In other words, everything is there to save you time and money.

An accurate & efficient search results webpage
The search results webpage of Gopili provides 5 useful tools to simplify your choice:
Filters: a wide range of filters are available to narrow the search on the left part of the webpage (see picture below). They enable you to choose a specific transportation mode for your journey, the duration and the departure / arrival times. As an example: if you only wish to travel by plane, you will just need to click on the other icons to uncheck these transportation modes. Thus, you will just see the offers corresponding to your criteria and will not lose any time.
A graph: the upper right part of the webpage displays a graph enabling you to identify at a glance the departure time offering the cheapest offer. You can easily adjust the graph to display only the offers corresponding to your desire schedules.
Sorting: a drop down menu, situated under the graph, will allow you to sort your research by price, duration or departure time.
A calendar: you also have the ability to access a calendar expanding the results by showing to you the different offers corresponding to your search for each day within a month. It means that you will be able to identify the cheapest day to travel.
A search history using tabs: When you're doing a search, this will automatically create a new tab. It allows you to navigate easily and quickly, within the same website, between your different searches.
These useful tools promise an easier way to book your journey and find the best fare.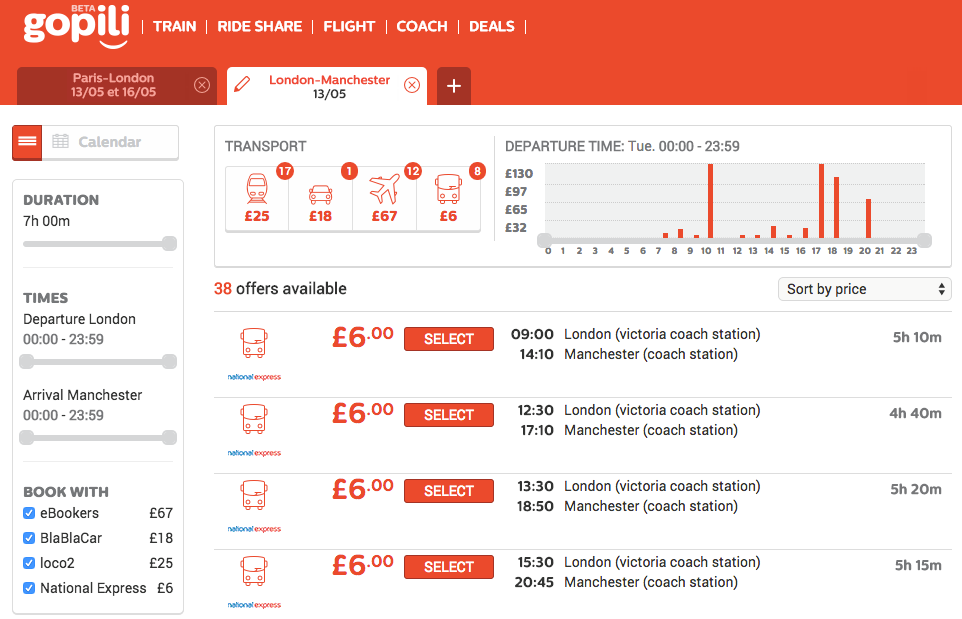 A tailored mobile website for your smartphones
The mobile web version of Gopili.co.uk is already available and designed to find easily cheap tickets for your journey via your smartphone. The mobile-friendly webpages also include the filters, the graph, the possibility to sort your research and the searches history.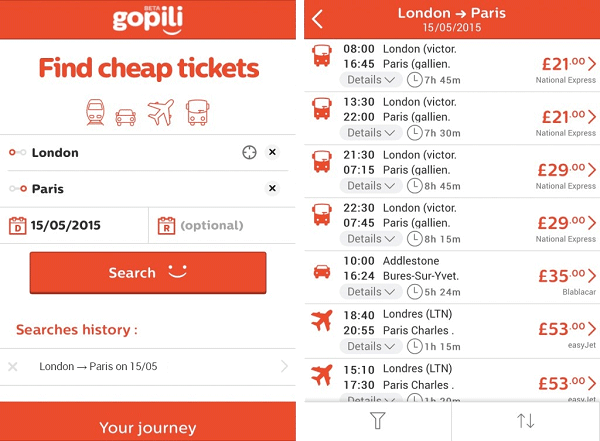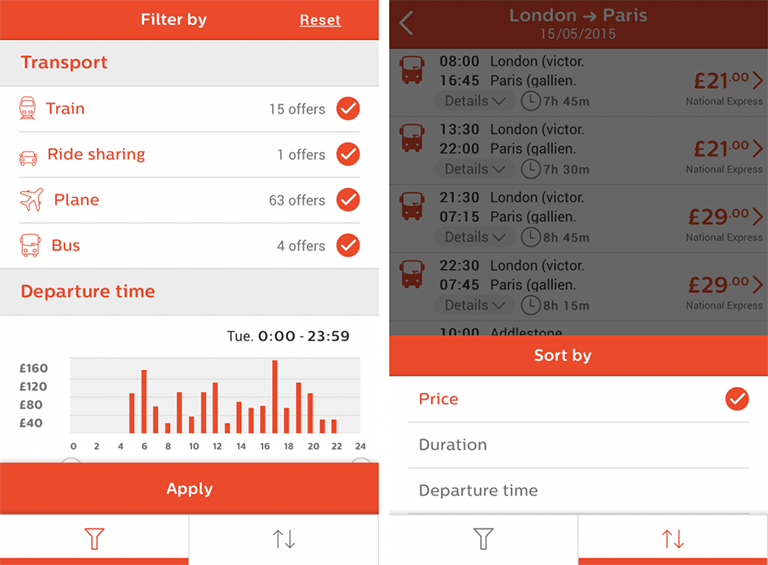 Questions or feedback?
If you have any questions or feedback about Gopili, we would be delighted to hear from you. Please do not hesitate to leave a comment below!